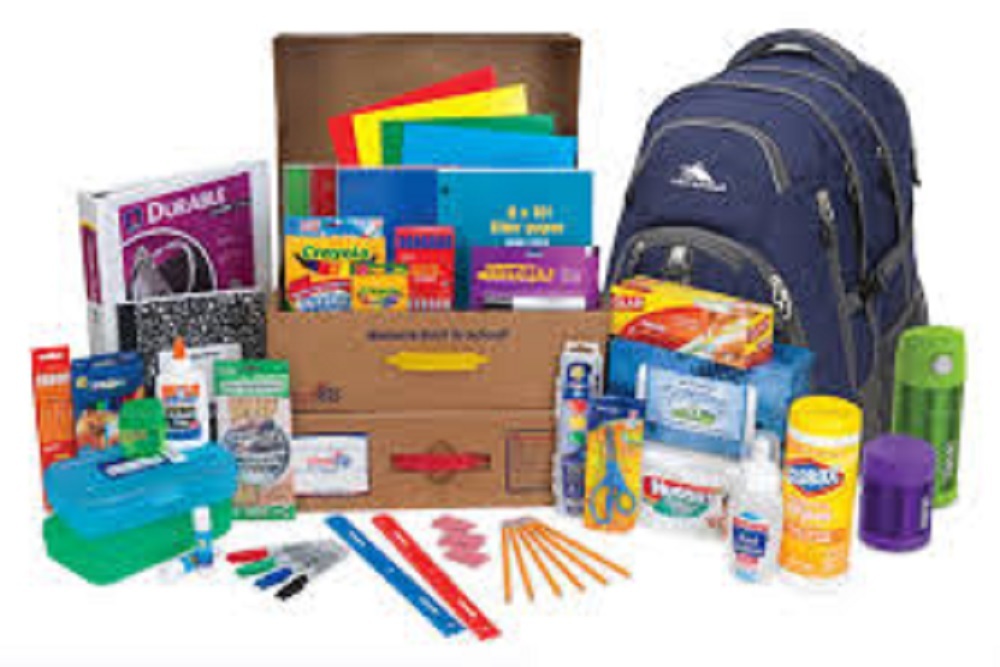 Bertolet Memorial Library District issued the following announcement on July 22.
You can make a difference in a student's education. Drop off new school supplies or monetary donations at Bertolet Memorial Library by August 10th.
SSET 4 School does not receive grants, does not have corporate sponsorships, and is entirely funded by individuals, churches, organizations, and local businesses within the Forrestville Valley School District. The support is received through monetary donations and mountains of school supplies. Every year the need for free supplies increases and every year the Forrestville Valley community rises to the occasion. Last year we were especially blessed with monetary donations. Before I left the house to purchase additional supplies I said a simple prayer, "Lord thank you for continuing to bless this mission. Please let me be a blessing to someone."
My first stop that night was Staples. I needed supply boxes, and unlike all the other school supplies, they were at the end of aisle 8. I was in aisle 2 and thought about just going to the end of that aisle and then cutting over. But I decided to walk thru the middle of the store and go up aisle 8. As I approached aisle 8 – there was a lady in the middle of the aisle looking at bulletin board ideas. I moved her cart to the side and I began loading up on supply boxes. I asked her if she was a teacher and she explained she was starting the year as a permanent substitute as the current teacher was out on disability. She continued explaining that unlike full time teachers she did not have bulletin board materials that she could use as she was not teaching at the end of the school year. Then I heard a voice, "Give her some money." We continued to chat and I heard it again, "Give her some money." I reached in my purse and pulled out $20. I explained that I wanted to bless her and her classroom. She took the money and asked if we could pray. So we prayed and when we were done she asked for my address so she could send me a picture of her bulletin board.
The next day, during the supply distribution, a girl that I have known for many years asked if she could get supplies. She was a freshman in college and struggling to get everything she needed. I told her she was welcome to get whatever she needed. I asked her how things are going and she said things were well but she needed to get a $50 text book and wasn't sure how she was going to pay for it. (I know $50 is not a lot for a text book, but the $50 seems like a lot when you are working part time and paying for rent, gas, groceries.) Again I hear, "Give her some money." There were quite a few people around and I did not have any money on me at that exact moment. I bargained, and in my head, told God I would, but not right now. A couple days passed and I had not yet upheld my part of the bargain with God. My husband came home for lunch with an envelope that contained money for school supplies. In the envelope was $50 – the exact amount my friend needed for her textbook!
About a month later I received a thank you note from my bulletin board friend. She did not use the money for herself, but donated it to Center School – the same school my granddaughter attends.
These stories are my testimony for this program and a very small sample of the good things that happen because of the community's generosity. As we get ready for another school supply distribution – may you all be as blessed as this mission.
Original source can be found here.